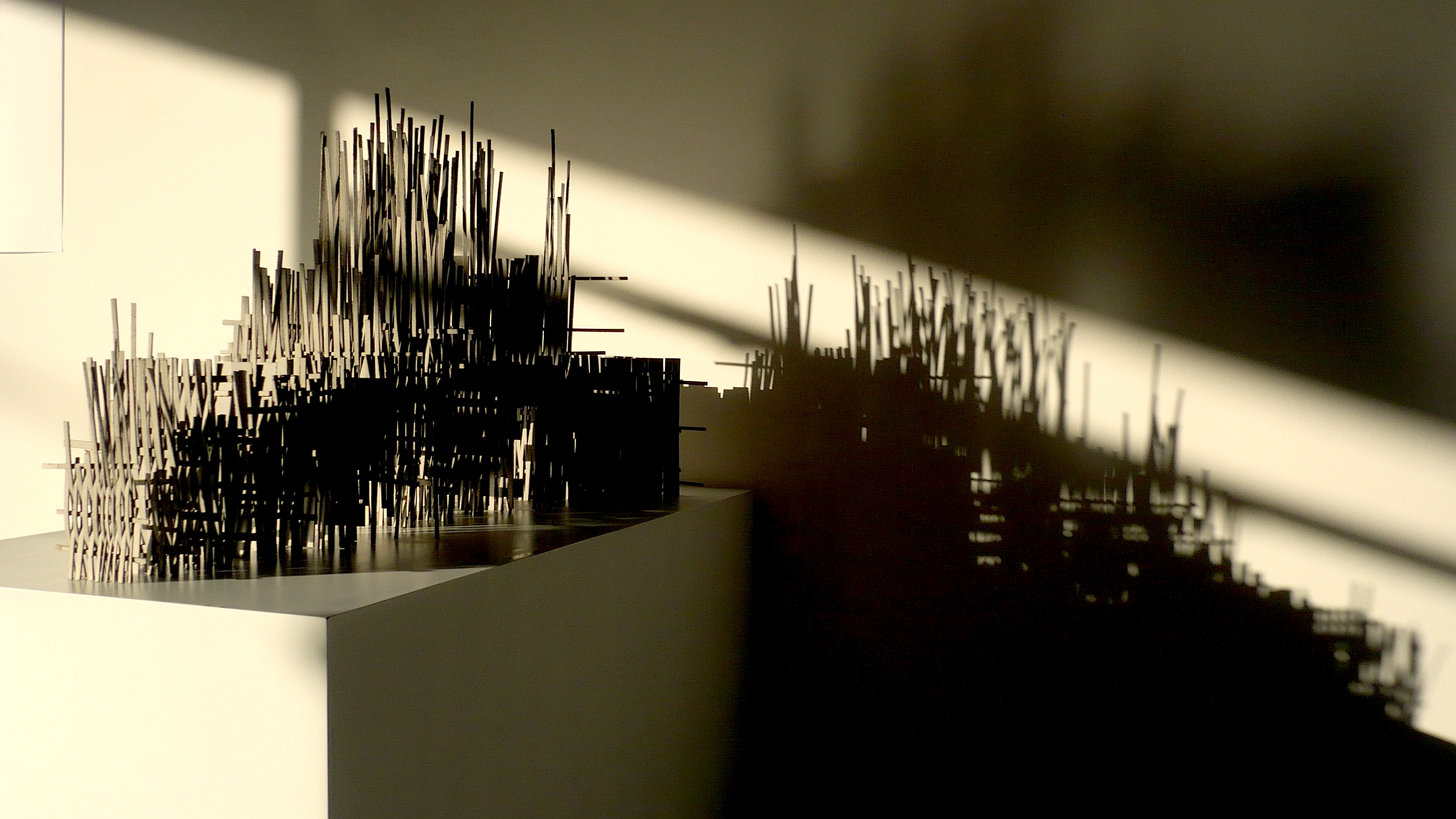 No lugar. Proceso de residencia / No place. Process of residence |Quito. 2016|
Tres ejes atraviesan la producción de Daniel Ventura, la arquitectura, el paisaje y el urbanismo pensados de forma muy cercana al constructivismo. Durante su residencia y con el fin de enriquecer su proyecto visitó talleres de artistas, museos de arte precolombino, moderno y contemporáneo además de dictar un taller atravesado por estos tres ejes que conducen su producción. Realizó una serie de recorridos planificados y no planificados en la ciudad; esta serie de experiencias generadas durante su residencia y la experiencia misma del desplazarse de un territorio a otro dieron como resultado una serie de abstracciones estructurales del paisaje Quiteño a partir de la mirada que se construye por la experiencia del habitar. Una serie de piezas que aluden al mapa y a la cartografía producto y evidencia de un recorrido intuitivo y afectivo a través del transitar como practica estética cuyo fin no está dado sino es una transferencia de la experiencia a forma estética.
Three axes cross the production of Daniel Ventura, architecture, landscape and urbanism thought very close to constructivism form. During his residence and in order to enrich their project, he visited artists' studios, pre-Columbian, modern and contemporary art museums; in addition he gave a workshop crossed by these three axes that lead his production. He made a series of planned and unplanned tours in the city. This series generated during their residence and the same experience of moving from one territory to another, resulted in a series of structural abstractions of landscape of Quito, from the look that builds on the experience of living. A series of pieces that refer to the map and cartographies, product and evidence of an intuitive and emotional journey through the movement as an aesthetic practice whose end is not given, but is a transfer of experience into an aesthetic form.
Byron Toledo.